The Best Keyboards, Mice, Tablets & Controllers for Film Editing
As a film editor you'll be handling a mouse, keyboard, tablet or other more exotic controller all day every day, so it is a sound investment to make sure you've got the very best tools for the job. In this editing gear round up, I've gathered together the best options for every kind of interface tool with the editor's need for speed, ergonomics and cost all factor in.
The Best Keyboards For Film Editors
Keyboard shortcuts are the hallmark of a speedy editor. The more shortcuts you've got memorised the faster you will be. Learning all the shortcuts of course takes time, and if you're new to a piece of software it will take even longer. That's why keyboards like the ones from UK based Editor Keys (and their US sister company KB Covers) can be very useful.
If you're a Mac user then you'll know that keyboards come in two standard flavours – those with a digit keypad at the far right and those without. Personally I have the full length keypad at home where desk space is abundant and I prefer it for quickly tapping in time-codes etc. But I'll definitely be picking up a wireless one without the keypad, as it's smaller form factor makes it far easier to tuck into a ruck sack for freelancing gigs. Plus it will wirelessly connect with my iPad.
Keyboard Ergonomic Quick Tip – Keep the B key lined up with your belly button – especially if it has a keypad which will throw your alignment off if you place the entire keyboard in front of you symmetrically – so that your hands and wrists are not awkwardly placed.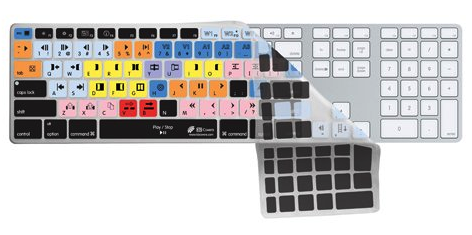 Returning to the options for learning keyboard shortcuts, Mark from EditorsKeys was kind enough to send me a couple of silicon slip-on covers to try out. They do have dedicated keyboards as well, but the silicon ones are both highly portable and provide a lot more flexibility when switching between different software. Plus you can return to your original keyboard for fuss free tying in a jiffy.
You can get silicon keyboard covers for all the major NLE's (Avid Media Composer, Premiere Pro, Final Cut Pro X) as well as for applications like Photoshop, Pro Tools, Logic and more. They also have keyboards for the wireless and Macbook Pro keyboards so you don't have to lug your full length keyboard around just to get the benefit. You can also get clear covers if you want to take something hygienic with you when moving to a fellow editor's sweat encrusted keyboard – a hazard of the freelance trade! Click through to read the rest of this huge post including Wacom Tablets, Controllers, Mouse and More!