Upgrading your edit suite – How to install an SSD & clean install of Mountain Lion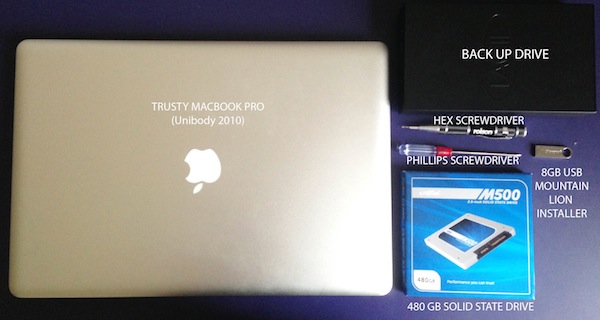 I've decided to upgrade my Macbook Pro with a brand new SSD drive, along with a fresh install and upgrade of Mac OS X 10.8.4 (previously I was still on Snow Leopard, but the latest wave of Apps are rarely supporting that far back.) My laptop has been a very faithful workhorse these past few years, but its time for a spring clean and a new lease of life with some affordable upgrades. Here is an in-depth how to guide on how I did it.
Questions I had before Upgrading My MBP
There were a few things I wanted to know before I upgraded such as 1. Which SSD should I buy? 2. Will FCP 7 install and run on Mountain Lion? 3. Will I be able to get the updates to FCP 7.0.3 from Apple? 4. How do I transfer over all of my data and applications when upgrading OSX with a brand new hard drive?
Some quick answers!
Which SSD drive should I buy?
1. I bought the M500 480GB drive from Crucial, who also recently released a 960GB drive.* A DoP friend Adam Roberts also recommended the SanDisk Extreme, but as my RAM had worked out so well and you can't really beat their prices, I went with Crucial.
Buy on Amazon.com | Buy on Amazon.co.uk
*Remember that you won't actually get 480GB of space due to the difference between the way people sell GB's and the way the computer reads them. 1024 bytes per kilobyte means that the 480GB will actually shake out to around 447GB.
Buy RAM, It's Cheap – As a quick aside I recently also maxed out the RAM I could have in my 2010 Macbook Pro (8GB) if you have a 2011 MBP I believe you can go to 16GB. It's either a clever marketing ploy, or a computer truth, that you need matching RAM sets (4GB/4GB or 8GB/8GB) and that's how most RAM comes packaged. I bought mine from Crucial, who have a very spiffy System Scanner that will tell you exactly what you need. Here's what I bought.
Will Final Cut Pro 7 run & update on Mountain Lion?
Having installed and updated FCS3, yes, Final Cut Pro will install and run on Mountain Lion (OS X 10.8.4) and you can indeed still get hold of the latest update to Final Cut Studio 3. In fact here is the direct download link, although the updates should appear in your Software Update.
If you want to install both Final Cut Studio 3 and FCP-X on your system, install FCS3 first and then when you install FCP-X it will move those apps to a folder in your Applications directory. One snag I did come across was not having QuickTime 7 Pro anymore. Originally when you installed FCS3 it automatically unlocked those features. I tried a few tricks to make it work, hopefully they will work for you too.
Click through for a step by step guide to installing your SSD and performing a clean install