Getting Started With Fusion 8
Fusion, the compositing and visual effects software, recently acquired from Eyeon by Blackmagic Design, is available as a free download under a beta release, for both Mac and Windows users.
If the development trajectory of DaVinci Resolve is anything to go by, it will be exciting to see not only the entire interface made more user friendly (high-end VFX software always seems to be designed by engineers rather than engineered by designers) but also seeing the effects of Blackmagic Design's disruptive releasing strategy on this segment of the software industry.
Fusion 7 is available to buy now, and here is a quick breakdown of the differences between Fusion and Fusion Studio.
UPDATE 2018 – Fusion Studio is being rolled into DaVinci Resolve, learn more about that here. Also check out this post on Fusion Studio 9.
In this post I thought it would be handy to draw together some of the best Fusion tutorials and resources available online, to help anyone who is interested in investigating the software get started. Of course the best thing to do is simply to download the free beta and start noodling around.
UPDATE The official Fusion 8 supporting documents are now available to download from the Blackmagic Design site. Here are the direct links to the PDF downloads:
Fusion 8 User Manual – "Fusion 8 instruction manual contains information on how to use Fusion 8 and Fusion 8 Studio to create visual effects, animation, paint, keying, rotoscoping, compositing with both 2D and 3D elements, lighting and particles."
Fusion 8 Tool Reference – "Save time when you are creating animation and effects with the help of this tool reference that includes keyboard shortcuts, tips and tricks to help you work even faster."
Fusion 8 Scripting Reference – "This manual is the reference guide for scripting in Fusion using either Lua or Python scripting language for customizing tools, automating tasks and more."
Fusion 8 Scripting Guide – "This manual is a guide to getting started with the scripting API of Fusion, known as FusionScript. Using this you can automate repetitive or complex tasks, customize Fusion behavior, extend functionality and more."
Thanks to Rick Young from MovieMachine.tv you can get an insider's perspective on the acquisition from Stuart Ashton, Director of Blackmagic Design, EMEA.
Fusion 8 Tutorials
Trainer Andrew Devis has 13 free Fusion tutorials embedded over on his site tale2tell.com, including a helpful two-part introductory tutorial on creatinga a text project in Fusion 8 beta. Andrew has a nice friendly and coherent style which makes his tutorials very easy to follow along with. If in doubt, start here.
UPDATE: Andrew has updated his Fusion tutorials page with a great introductory series, currently with 18 new tutorials, building a foundation for finding your way through Fusion 8. A superb free resource!
If you're after some more official training resources, there are 15 free tutorials available on BMD's Fusion site, which covers everything from understanding the node-based workflow, the basics of Fusion's particle system, compositing feature set and more.
For my friends learning @Blackmagic_News #Fusion, a quick cheatsheet with some great "101" facts. #postchat pic.twitter.com/KYFqT59FFj

— Jason Bowdach (@JBowdacious) October 6, 2015
Colorist Jason Myres shared some tips on getting better performance from Fusion 7 in this blog post and PremiumBeat also has a nice round up of older Eyeon Fusion tutorials, including a 9 part introductory series. You can also read a little bit about how a few of the VFX shots for Kingsman: The Secret Service were created in Fusion Studio in this post.
In these tutorials created by editor Alan Bell (The Hunger Games Series, The Amazing Spiderman) provides a really speedy overview of the Fusion 8 interface, which provides a nice introduction for anyone trying to find their way around.
UPDATE In this really good Studio Daily article you can learn 6 ways Alan used Fusion to dramatically enhance his edit on The Hunger Games: Mockingjay – Part 2 including building temp VFX elements, fixing performance issues, painting out bodies and gore, and a lot more. Well worth a read to get a sense of how a top Hollywood editor is using Fusion on a daily basis.
With the Avid's Edit Connect plug-in, I could pull something from the Avid ISIS and throw something in my source monitor, cut it into the timeline and immediately start using it. If I needed a fireball, I had a library of fireballs that were shot and I could pull from them at any time. Because I was using actual effects elements to build these temp effects, when those temp effects went to final, they knew exactly which element I used. If we liked that fireball in the rough cuts, the compositors could use that actual fireball in the final render.
Learn Fusion from a VFX Pro
VFX artist Alf Lovvold created this 3 minute trailer in his spare time over 7 months, which is incredibly impressive. He's also put together a couple of introductory tutorials to Fusion, which you can watch below, in which Alf works with a few shots from this project. If you want to experience 5 hours of looking over Alf's shoulder while he works, check out this 4 minute video.
FX Guide as a really good interview with Alf on how he created the project, and the toolset he used.
The CG renders were composited in Fusion. "I'm an old Fusion user," states Lovvold, "and I'm still sticking to it even with all the NUKE hype. NUKE is great, but for my kind of work – I haven't run by any job I couldn't do in Fusion just as fast or as good. I really hope Fusion, with Blackmagic as a backbone, regains traction in its field. And, if your'e a small studio not doing overly complicated stuff or some fancy pipeline integration, Fusion is currently free with very few limitations vs. NUKE's hefty price tag."
I really hope Fusion regains some traction against the Foundry's Nuke. The two programs have a lot of similarities but I think Fusion is way easier to just pick up and learn and start using, and I also think Fusion is much cleaner in terms of the interface, and lastly it's free! So it's a great starting point for freelancers, students or small to medium size production houses… – Alf Lovvold
More Fusion Tutorials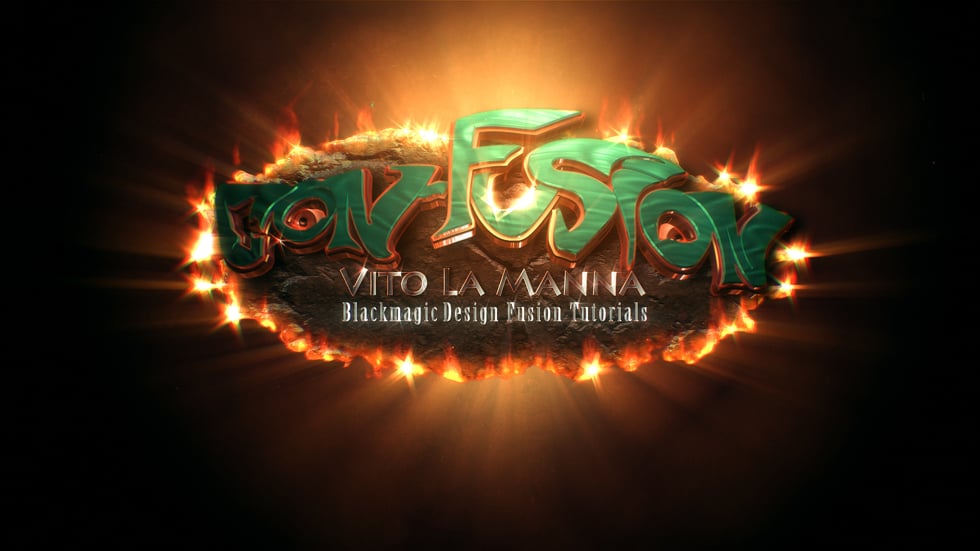 Con-Fusion is a new tutorial and learning community created by Vito La Manna, and will feature regular tutorials on working in Fusion 8. You can already watch 12 videos on his vimeo channel, with more coming soon. I can't seem to embed the videos here, so you'll need to jump to the vimeo channel to check them out.
Visual effects artist and Youtube trainer Rob Redman from Pariah Studios, shares these two Fusion 8 tutorials, with more to come. Rob also has a detailed review of the software over on 3DTotal.com.
For me at least the true joy of Fusion is the fact that it isn't restrictive. You don't have to learn to fit its quirks. There are a multitude of ways to reach the same conclusion, making it easy to fit the software to your preferred ways of working, not the other way round.

As an example, let's take adding a tool. You can press Ctrl-and-click to access the tools menu, or you can right-click in the workspace view, or you can keep the bin open. The bin is a bit like content browsers in other applications, with graphic hints to each tool's functionality, as well as a name. Other things, like merge tools autolinking to an already selected tool, makes quick work of setup, and there are just too many useful little elements of Fusion to mention.
UPDATE – More Tutorials!
More Free Fusion Tutorials
Motion graphics teacher supremo Simon Ubsdell, posts these free Fusion tutorials as an introduction to the program and some of it's 3D capabilities. If you like Simon's measured and easy to follow style, you should definitely check out his wider YouTube channel which features tons of tutorials on creating very clever things in Apple Motion.
You can download the textures Simon uses via a link in the Youtube comments and learn a bit more about his experience with Fusion in this Creative Cow post.
In these further two tutorials Simon creates an organic landscape in Fusion, demonstrating how to make use of displacement techniques, shaders, simple expressions and a lot more.