How To Be A DIT – Part 15
It's been a while since my last How To Be a DIT post, and if you're new to this series you might want to check out this post that brings serves as a contents page for everything so far. In this post I'm catching up on a mixed bag of some of the latest developments that a working DIT might be interested in.
To kick us off I thought it was worth highlighting a excellent website from a working DIT, Charlie Anderson, dorkinatent.com. Charlie's site has occasional blog posts, as well as a lot of knowledgable answers to reader questions scattered around the site too. So be sure to check out the comments on the About and Gear-List pages, where you can see a full breakdown of Charlie's DIT cart, which features a Wacom Cintiq 13″, 2 Flanders Scientific Monitors, a Retina Macbook Pro, a 12 core Mac Pro with D700 graphics cards plus a Mac Mini, among other things!
Charlie's latest post features an extensive review of Pomfort LiveGrade V3, with a run through of the new features, pricing model and improvements.
Free DIT Folder Tool
DIT Charlie Anderson has also created a useful DIT folder structure tool which you can download for free from his site, which will automagically create folders by data and camera, including all the useful elements that Charlie uses on a regular basis. Simple, effective and free! What more could you want?
Version 2 automatically creates a first folder based on today's date and was designed to work with OS X 10.10.
DIT Folder Structure V2 – Direct Download
10-bit video on Mac and the next new Mac Pro?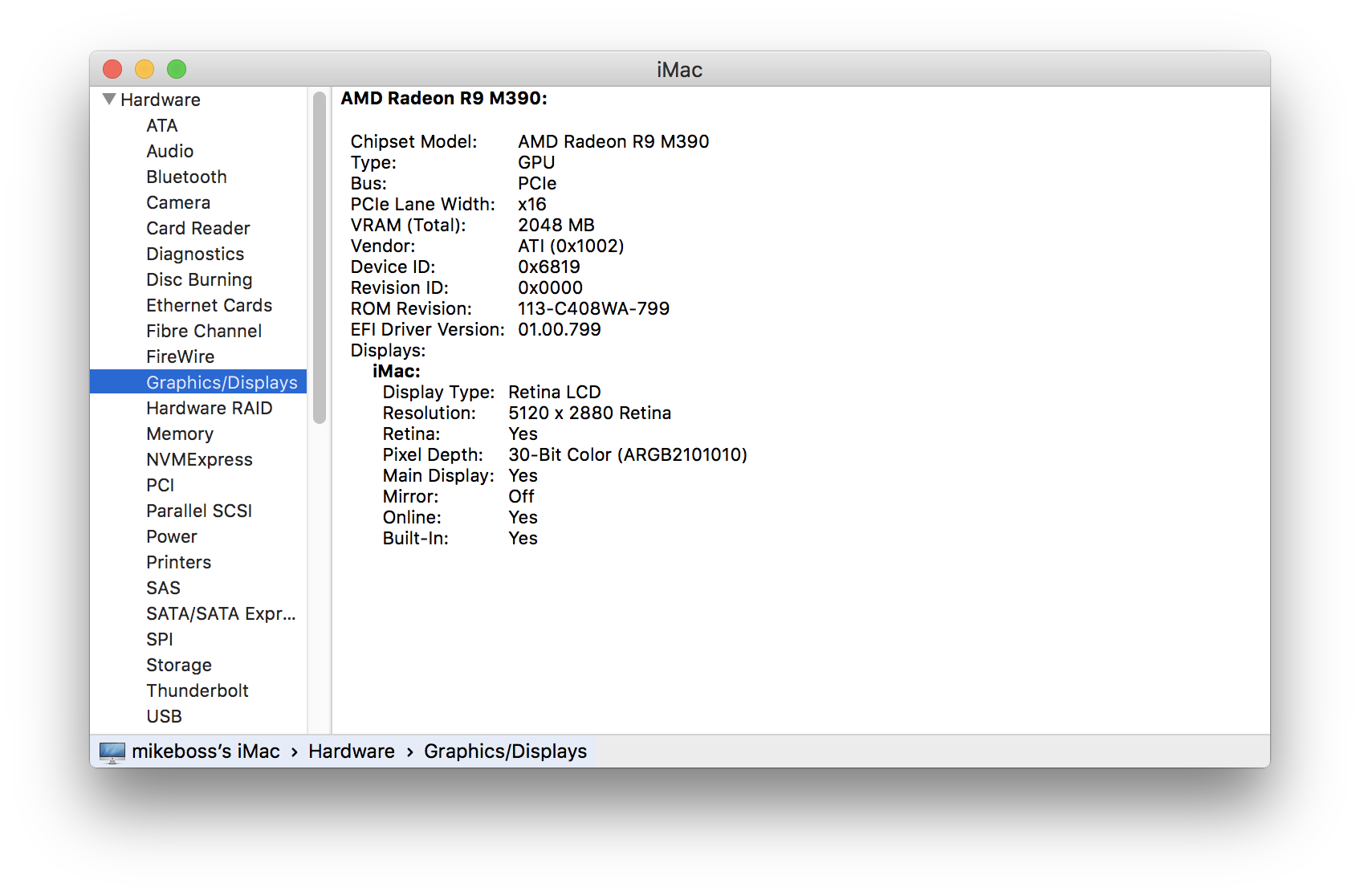 Windows has for a long time supported 10-bit colour depth natively in the OS, where as Mac OS X never has. Therefore if you wanted to accurately view a 10-bit image on a Mac you had to output that image, to a monitor with a 10-bit panel, via a video I/O box. Scroll down to near the bottom of this post on Affordable Grading Monitors for more on that.
Apple added 30-bit support for 10.11. It only works on certain displays and it works better on their 5K displays (even better on the latest gen iMac). – Adobe
With the release of Apple's latest operating system, El Capitan (10.11), it seems like that is no longer the case. Finally, we have 10-bit native video on a Mac! There are plenty of tech sites writing it up, but here are a couple of easy reads – Engadget and Mac Performance Guide and Mac Rumors.com
Another interesting rumour is that the next New Mac Pro might be coming out soon, as there is a possible reference to it in some of the El Capitan code. Mac Rumors goes on to speculate that:
Looking toward possible specs for the next Mac Pro, it seems likely it will run on Xeon-branded Broadwell EP chips and include significantly faster graphics based on AMD's Fury platform, along with faster memory and storage and perhaps Thunderbolt 3 connectivity involving a partial shift to USB-C connectivity.
Lastly OS X El Capitan appears to kill off Apple RAID functionality, which you can read all about over on Mac Performance Guide, and get your hands on a low-cost workaround solution. Apple does, what Apple wants.
While Apple RAID volumes still mount, DiskUtility no longer recognizes them and there is no easy way to configure an Apple RAID volume or determine if it is working correctly. This is a fitting end to a product which Apple last worked on over 6 years ago.
Tools for Getting DIT Tasks Done
rename multiple files right from the finder in Yosemite : select and right click… no extra soft needed pic.twitter.com/AVe9ZqyUrr

— Double Precision (@DoublePrecision) July 5, 2015
There are multitude of ways in which to get tasks done when it comes to data management as a DIT and a plethora of paid or free options to get those jobs done too. For example in the tweet above you can see how to batch rename multiple files right in the Finder, you can dive into a detailed step-by step guide here, or watch the video below. This could of course be accomplished with dedicated apps like Renamer or numerous others.
Colorist Nikolai Waldman has a handy little app called Multicopy that costs €20, which helps you to duplicate your media to up to 8 destinations via four different drop zones, which are all checked with an MD5 check sum. This is a great way to save time when copying camera cards to specific destinations without having to reconfigure everything. You can download a free demo to give it a try for yourself and I think it's well worth a look.
For a free way to achieve the same thing, you can check out RocketStock's quick tutorial on how to use DaVinci Resolve's inbuilt clone tool to achieve similar results. Premiumbeat expands upon this process a little in this blog post on using Resolve on set.
Lastly, another useful, if not inexpensive (at $99), utility that might come in handy is ShotSum from Imagine Products. You can see it in action in the video below.
ShotSum™ for Macintosh is a file-analysis utility used to compare files and folders to one another. At its heart, it is designed to determine whether two files have the same contents. ShotSum provides an easy way to check file integrity across all your copies for sameness (same contents, different names) or differences (same name, different contents).

Just drop two or more files or folders onto the application and click Begin!  Checksum technology is used to determine a file's byte-count and byte sequence so you can be assured that matched files are exactly the same, regardless how they're named.
DIT Training
If you've not yet seen Michael Cioni's 'Strategies in Filmmaking' presentation at DP Shane Hurlbut's educational event, then you're missing out on some seriously incisive insight. I can't embed the videos here so you'll need to jump over to Shane's site to watch them there but Michael walks through how to leverage today's technology to make the best film you can, covering everything from why glass matters so much, to how to get 'better pixels' and why immodesty matters. Here are some direct links to all the 'golden nuggets'.
Part 1 | Part 2 | Part 3 | Part 4
If you need a very simple primer on understanding bit rates then check out this post, and for a fairly detailed overview of video compression and the benefits of using an external recorder, check out Andy Shipsides Abel-Cine article. Endcrawl.com also has an interesting article on why 2048 x 1152 is a 'total crock'
If you shot in 2048×1152, there's not much you can do there. Sorry. But if you acquired your picture at 2.4k or higher, and your DI is not native RAW, then you should be working from RGB frames that are in the actual raster of your Original Aspect Ratio (OAR). Meaning either 2048×858, 1998×1080, or good old 1920×1080. Again, nothing wrong with HD. It's great.

For UHD/4k, just double those numbers.

But don't finish in 2048×1152. It yields no benefit and can only serve to degrade your final picture.
 DIT Tweets
Everyone says #MacPro "TrashCan" can't play 4K uncompressed DPX which is 1.26GB/s. We say NOT TRUE. With DDP you can! pic.twitter.com/jSbyjX2fOX

— DDP Super Server (@DDP_SuperServer) June 25, 2015
Interesting Tweets from DITs, editors and other tech minded creatives.
Gone Girl 6K to 5K extraction. Shoot 4k & above & extract. Leave 20% safety for fx, stabilizing, and framing pic.twitter.com/jPOer6wKWj

— Jason Bowdach (@JBowdacious) May 10, 2015
A Picture To Show You Clearly The Effects of Aperture, Shutter Speed and ISO On Images – pic.twitter.com/5M2Ox20JI1

— Thomas Marzano (@ThomasMarzano) April 11, 2015
REDCINE-X PRO now support #ProRes on Windows! Your turn @Blackmagic_News Davinci Resolve! #r3d #resolve12 #filmmaking pic.twitter.com/7jErPyz6LW

— Hybrid Vigor Film (@HybridVigorFilm) April 13, 2015
Every monitor you see is being driven by the laptop. pic.twitter.com/SKHqooWVRv

— SHANE ROSS ? (@comebackshane) November 26, 2014
Thunderbolt to IoXT out to FSI 2461, loop to DVI monitor. USB to DVI monitor.

— SHANE ROSS ? (@comebackshane) November 26, 2014
What is happening here? A little side station I set up near where I'm working. 30+ old small archive drives to 2 new. pic.twitter.com/LWFc1ncNBI

— Carey Dissmore (@careyd) December 15, 2014
A copies stored onsite. B copies stored offsite. For the moment all are here under one roof…but only for as long as they need to be.

— Carey Dissmore (@careyd) December 15, 2014
BTW thats Chronosync doing the work. 1. A/B copies are checked for sync to each other in docks on right. Then, xfer to each 5TB on left.

— Carey Dissmore (@careyd) December 15, 2014