Expand your editing set up with Thunderbolt
So I'm thinking of upgrading my trusty MacBook Pro later next year, but it only comes with 2 USB 3.0 ports and 2 Thunderbolt ports and an HDMI port. So I've already begun looking into how to expand it's usefulness through all these nifty Thunderbolt peripherals you can get these days. Here is an epic run down on some of the best available Thunderbolt devices.
What's the difference between Thunderbolt 1 and 2?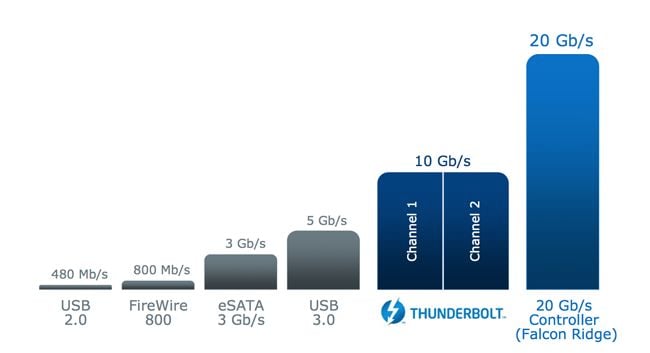 Thunderbolt 2 delivers twice the throughput of Thunderbolt 1, providing up to 20Gb/s of bandwidth to each external device and allowing you to daisy-chain up to six peripherals on each port, so, if you wanted to, you could plug in up to 12 external devices via Thunderbolt alone. (If those devices also allow for daisy chaining, with additional Thunderbolt ports on them.) The new Mac Pro will feature Thunderbolt 2.

If you are after them, The Register has some good technical details on Thunderbolt 2, where they also note that the upcoming USB 3.1 should expand its capability from 5Gbps to 10Gbps. Everything is getting faster.
Jigsaw24.com Free Shipping!
I often buy things from Amazon as it tends to be the cheapest, but my next go-to site for editing gear is usually Jigsaw24 as I have a long standing relationship with Tim Bridger, one of the excellent sales chaps there, when I need a speedy delivery, some detailed questions answered or just greater levels of service.
I was emailing Tim about some of these devices and he was kind enough to offer a special deal to readers of this blog! If you're looking to purchase any of these Thunderbolt peripherals in the UK get in touch with Tim Bridger (tim@jigsaw24.com/0115 916 5536) mention my name and you could get free next day shipping!
Thunderbolt Expansion Hubs
If you want to be able to plug in more USB 3 or 2 devices, HDMI connected screens, Gigabit ethernet and daisy chain in a few more Thunderbolt peripherals then a Thunderbolt Station like this one from Caldigit might be the right thing for you.
For $199/£179 you get 2 Thunderbolt ports (allowing you to connect and daisy chain) three more USB 3 ports, an HDMI port, Gigabit ethernet port and two 3.5 mm audio I/O. This is probably the device that I'll get as it seems to represent the best value for money. Caldigit have a decent FAQ on the device here if you want to find out about charging devices or running an Apple Superdrive via the Station. For a very thorough review check out this post over on FortySomethingGeek which includes various transfer speed tests and connecting four different displays!
Buy on Amazon.com | Buy on Amazon.co.uk
Click through for a huge article covering Thunderbolt expansion chassis, RAIDS, video I/O, adaptors and more!