DaVinci Resolve 10 Color Grading Tutorials
DaVinci Resolve 10 is now out of beta and available to download. The latest release from Blackmagic Design is a huge leap forward – adding in features such as live grading, greater editorial functionality and a whole lot more. And of course there is an updated manual. If you didn't see this previous post on the Resolve 10 beta, it will give you more info on what's in the update. Also check out the post NAB Resolve 10 post.
What are the differences between DaVinci Resolve Lite/Full?
DaVinci Resolve Lite is now no longer restricted to 2K outputs (now UHD), nor does it come with any GPU limitations. The main differences then between the free Lite version and the $999/£780 full software version is basically the inability to do anything to do with Stereoscopic 3D, apply noise reduction or motion blur, fully support a DaVinci Resolve control surface nor customise it, or do remote grading. But pretty much everything else is free! Amazing.
Free DaVinci Resolve Tutorials
DaVinci Resolve 10 has the ability to support OpenFX plugins, one of which is Film Convert. In this tutorial Splicenpost demonstrates how to use it inside of Resolve. For more on Film Convert check out these two previous posts: Matching Film Stocks. More Tutorials for Colorists.
Colorist Nikolai Waldman suggests that the best way to add film grain in real time inside of Resolve is not to use a plugin at all but rather simply to add it in as an overlay layer and adjust the opacity for the whole track, a new feature in Resolve 10.
In this tweet, and the whole conversation, Juan Salvo points out the easier to see tracking indicator in Resolve 10.
Great Resolve 10 feature for the color-assist… indicator for when tracking is used. Now go track my handles! pic.twitter.com/cJ8I7gIzJk

— Juan Salvo (@j_salvo) October 11, 2013
Matt Fez shares how to transfer looks from programs such as After Effects, Photoshop or Apple Color into Resolve.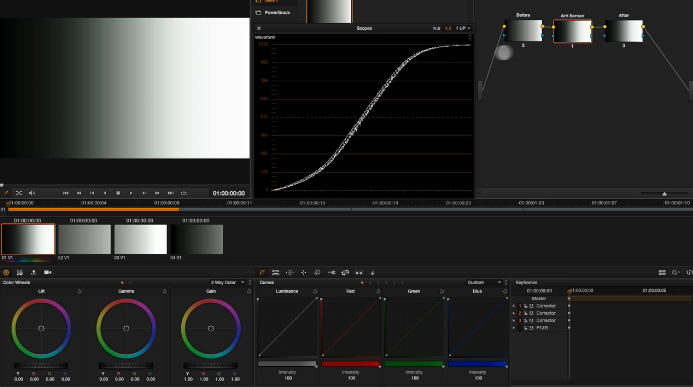 In this free Mixing Light taster Patrick Inhoffer talks through the basics of using a LUT in your grading workflow and how you really can't apply it as a one-size fits all solution. There is a 7 minute embedded video tutorial that is definitely worth a watch, as Patrick explains why he creates a 3 node structure when working with LUTS. Check out more from Mixing Light here.
Click through for loads more free tutorials and Resolve grading tips