5 Books On Ideas To Expand Your Creative Thinking
From time to time on my blog I write up a list of 5 books or so on different topics. There's been two posts on The Best Books on Film Editing 1 & 2, Books on Storytelling, Books for Creatives, Books on Avid, Books on Marketing and more. This time I thought I'd share some of my favourite books on ideas, which are guaranteed to get your mind whirring and generate some fresh creative thoughts!
Where Good Ideas Come From – Steven Johnson
Where Good Ideas Come From is a brilliantly readable book and if you want a good taster for it you can simply watch Steven Johnson's TED talk, but if you don't want to spoil it all just grab and copy and prepare to be inspired.
Essentially the book takes you through seven key principles that can facilitate the generation of really good ideas, from which you can draw out some very practical pointers such as the importance of writing everything down, and being connected to as many people and stimuli as possible, and sticking with slow hunches.
"Chance favours the connected mind."
That makes it sound all very simplistic but Johnson's narrative approach uncovers tons of fascinating insights based on characters as diverse as Charles Darwin and Tim Berners-Lee. A very enjoyable and valuable read.
Buy on Amazon.com | Buy on Amazon.co.uk
The Decisive Moment – Jonah Lehrer
"I was flying a Boeing 737 into Tokyo Narita International Airport when the left engine caught on fire." If you're looking for an opening line that will grab your attention you can't do much better than that! So begins Jonah Lehrer's insightful and intriguing The Decisive Moment, which is all about how we make decisions and how we can learn to make better ones.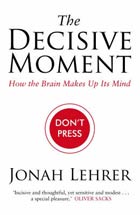 Lehrer writes in a similarly anecdotal style to Johnson or Gladwell (though not as brilliantly as the later) whilst drawing on a detailed understanding of neuroscience to weave together a gripping book about the power and process of decision making. One of my favourite parts of the book is Lehrer's analysis of the stock market and his proposal for a relatively fool-proof investment strategy: "Since the market is a random walk with an upward slope, the best solution is to pick a low-cost index fund and wait… Don't buy or sell a single stock." In doing so Lehrer reckons you can out perform the average 'active' investor by nearly 10 percent. Entertaining, informative and a mind expanding read.
Buy on Amazon.com | Buy on Amazon.co.uk
Click through for 3 more great books to enhance your creative thinking