Resources For Film Editors To Improve Your Craft
Every editor is always a student of film. No matter how high you rise there will always be new things to learn, new problems to solve, new creative approaches to take. So if you're an editor looking to improve your craft, how exactly do you do that?
Well, the following resources should hopefully have most aspects of the art, craft and technique of editing covered. First off is the Art Of The Guillotine's brand new interactive magazine – The Assembly. A clean, informative and professional front end for the huge community compiled database that is the AOTG network – which now features over 45,000 submissions and growing daily.
The Assembly – Interactive Magazine for Film Editors
Thanks to AOTG founder and The Assembly Editor-in-Chief Gordon Burkell's tireless efforts, there is a huge wealth of post-production related content amassing daily on AOTG.com. But with so much great content available, the challenge of finding what you need, or being able to extend the depth of any given post by finding others like it, is now not really a problem at all.
Having been given a sneak peak at the magazine you definitely want to stop reading this and go sign up for it right now. Jump over to AOTG's sign up page and then come back and keep reading! As it works on any iOS and Android device, everyone can carry it in their pocket.
It is seriously well written, with contributing writers – many of them working editors and post production professionals – delivering in-depth articles on a diverse range of topics such as the science of how an audience 'computes' an edit, the origin story of the hugely popular #postchat, to articles on metadata and the work of editing a critically acclaimed TV series.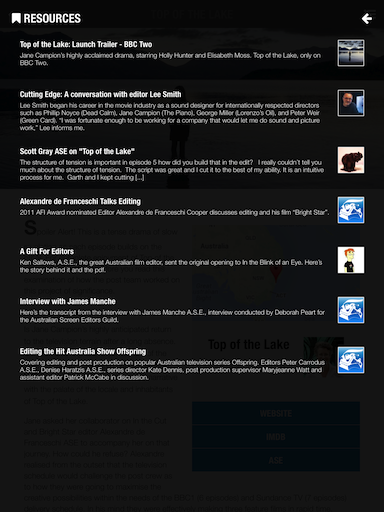 Each article in The Assembly not only features videos, websites, audio clips and more than you can access with one tap, but it also connects you to the best that the AOTG network has to offer. This connection is one of the best of the interactive features in The Assembly. Each article has a 'Resources tab' that takes you to a list of selected linked articles and information to help you go deeper into the focus of that particular article.
Lastly, one of my favourite things about The Assembly, which is a tiny detail that makes a massive difference, is that all the 'extra' resources that you access – be they videos, websites etc are opened within the app. This means when you're done viewing that particular extra you can just hit 'done' and you're right back in the app. Click through for even more resources