Video Editing with Logitech G-13 Keypad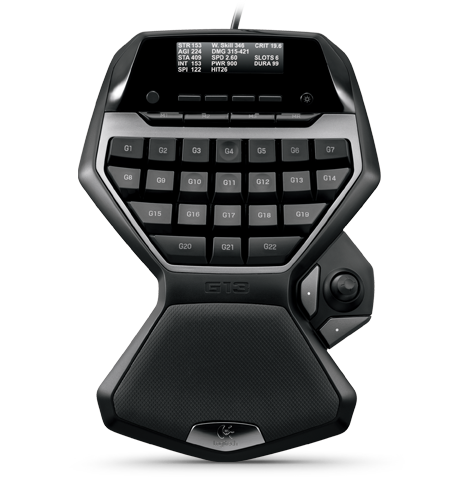 Buy on Amazon.com | Buy on Amazon.co.uk
I recently purchased a Logitech G13 after hearing how Editor Alan Bell A.C.E. uses one in combination with his Wacom tablet as his primary film editing devices. It sounds like a slick way to work and as an editor who is locked in to using keyboard shortcuts as often as possible and finds it a joy to memorise or devise new ones, I snapped up a G13 to give it a go myself.
In this post I thought I'd put together a fairly comprehensive 'quick-start' guide to anyone looking to use a G13 in their post production workflow. It really is a very versatile device and would speed up any creative working in After Effects, Premiere Pro CC, FCPX, DaVinci Resolve, Avid Media Composer etc. (or all of them!) There really are no limits to what you could use the G13 for, with a bit of imagination.
Headline Features of G-13
Map each of the 22 G Keys to any keystroke, system shortcut, function key, macro, keystroke combination, alisas and mouse move you wish. Each profile contains three sets of mappings giving you 66 keys, plus the joystick and joypad buttons give you 7 more buttons to map in each set, totalling 87 programmable keys.
Customise the backlighting colour of each set of keyboard mappings, with three colours per profile, to help you visually keep track of what mapping you are in.
The LCD display will also toggle through several 'applets' which by default include profile selection, time and date, countdown/stopwatch, CPU and RAM usage as %, RSS Feed updates and email notifications.
You can also save up to 4 Profiles to the internal memory of the G13 to take them with you wherever you go. You can also export and import them via a simple XML too. Read on for a video tour and tips on editing with the G13