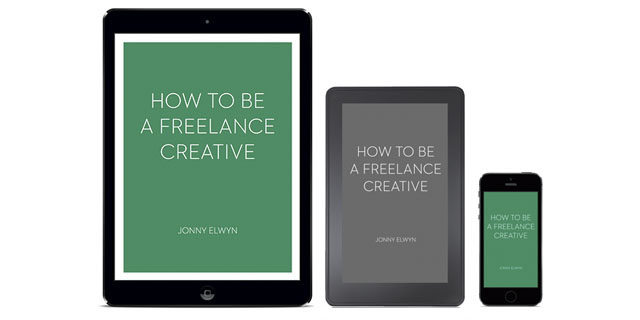 Essential advice to build your freelance creative career

@jonnyelwyn I've just started reading you e-book last night and it is everything the doctor ordered! Fantastic work!
— Tim Bourque (@thateditorbloke) January 25, 2014


How To Be A Freelance Creative is the practical guide to everything you need to know to become a successful freelance creative.
Throughout my freelance career I have consistently been able to work fewer days, whilst increasing my income year on year, all through raising my rates and landing better gigs, and you can too.
Add $1000s more to your annual salary by learning how to raise your rates and develop multiple streams of income to help you thrive in your creative marketplace.
Freelancing can be a confusing journey for many, and without a clear roadmap to follow it's easy to get lost, head down dead-ends, or worse, end up broken down by the side of the road.
How To Be A Freelance Creative is the road map you need.
In a 100 pages I share every piece of useful advice I've ever received, all the lesson I've ever learned, all the mistakes I've ever made and every technique that has ever helped me to sustain and grow my freelance creative career over the past 8 years and counting. Use How To Be A Freelance Creative as your guide through the maze of building a freelance creative career by following simple, practical principles to apply to your life today. You can save yourself the time, expense and hassle of trying to find what works and take the shortcuts I've discovered over the years, through tried and tested methods.
Basically everything I wish I'd known when I started

Whether you are a creative just about to take the plunge into being freelance for the first time, or you've been freelance for years, How To Be A Freelance Creative will help you get to grips with everything you need to know to enjoy, develop and excel in your freelance creative career, no matter what stage you're at right now.

The book is designed to cover everything a freelance creative would need to know from finding the kind work you love, to handling your finances and developing ways of growing your business for the long haul. Here's a quick summary the full contents of the book:
Chapter 1: Introduction – Five Things I Wish I'd Known When I Started – The Pros and Cons of Being Freelance – Tips For Those Starting Out – Three Things You Can Be Certain Of. 
Chapter 2: Briefing Well – How To Brief Well – 8 Steps To Creative Clarity – Defining Success – The Top Three Things To Specify In Your Brief.
Chapter 3: Getting To Work – Get Organised For A Simple Life – Back Ups, Archives & Quick Amends – The Danger With References – Managing Your Time – Creative Competence and Continual Learning. 
Chapter 4: The Money Stuff – Making Money – Dos and Don'ts For Daily Rates – Tips on Negotiating  – Keeping Your Money – Dealing With Late Payments – Getting More Money – Investment Doesn't Need To Be Sexy – In The Service Of Loyal Opposition.
Chapter 5: Playing Well With Others – Communication (that works!) – Building Fruitful Partnerships – Working With Difficult Clients  – Negotiations.
Chapter 6: Career-Shaping Decisions – Why Ergonomics Is Essential To Your Creative Career – How To Get Work And Build A Business – What To Do If You Don't Know Anyone – Building Your Business – How To Get The Kind Of Work You Want – Becoming More Employable – Getting More Clients – Doing Unemployment Well.
Chapter 7: The Freelance Work/Life Balance – Tips On Working From Home – (Tackling) Common Freelance Fears – A Freelance Philosophy. 
Chapter 8: How To Be More Creative – Working With And Against Your Emotions – Building Creative Habits – Getting A Fresh Perspective – Three Questions To Promote Healthy Creativity – Making Your Ideas Happen.
Chapter 9: Books For Creatives – Creative Ideas – Books On Storytelling – Business Books For Creatives – Marketing Books For Creatives. 
Chapter 10: All My Mistakes – All My Mistakes And What You Can Learn From Them.

Free Bonus With Every Purchase (Worth $9.99) – As a thank you for buying How To Be A Freelance Creative, I've also put together a template for the effective Terms and Conditions I use with all my clients, that I'll show you how to adapt to use with yours.
It always surprises me how many freelance creatives I meet who don't have any formal Terms and Conditions to hand to their clients before working with them.
This bonus template will help you craft your own Terms and Conditions that will really serve you and your clients.
Being able to put a few clarifying guidelines down on paper really does help to put you and your clients on the same page with regards to topics like getting paid, rights to work, booking arrangements and more.
Providing your clients with professionally worded Terms and Conditions will help you avoid late payment issues, disarm unreasonable client expectations and protect you and your work.

What people are saying about the book…
@jonnyelwyn I've just started reading you e-book last night and it is everything the doctor ordered! Fantastic work! — Tim Bourque (@thateditorbloke) January 25, 2014
In an email conversation with Editor Tim Bourque he also made these comments:
This e-book has come at a time where I have been mulling over whether to pursue my editing career and go freelance full time or give up entirely…. needless to say my passion for editing has been re-ignited. So I thank you again for taking the time and the effort to write it! Bravo! This book walks you through each aspect [of being a freelance creative] with ease. It's like you say, these are things I wish I had known in the beginning but it doesn't hurt to be reminded about them through out your career.
Nathalie from Mentorless.com graciously accepted an invitation to review the book. Click here for the full review – here are some edited highlights of what she had to say:
I have been working as a freelance filmmaker, editor, and storyteller at large for the past five years, over two continents (that are not Asia and Africa). So I am right in the middle of this book's target audience… Granted, if you have 20 years under your belt as a freelancer, this might not be for you. Otherwise, I strongly feel this book might be a good read. What I thought made it a strong book:the tips. The tips Jonny shares are really about helping you achieve balance as a freelancer, so you can grow financially all the while staying creative. The book is as much about having the right mind-set [as it is about] giving you the tips and tools to cultivate this mind-set. It is a fast read. The book is 100 pages long and that's what you need. Nothing worse than a 350 pages book that dilutes its 'practical' content in redundancies and detours. 'How to Be a Freelance Creative' is clear and concise, it says what it needs to say and moves on.
Editor Ben Hunt shared his thoughts on the book in an email to me, saying:
Overall it was a really well thought out book which made a lot of sense. I'd certainly recommend it to other freelancers (not just editors) and it inspired me to start charging extra for jobs where I bring my laptop (I used to just offer it as a courtesy) so it's already paid for itself in that respect. I'll probably read it again every once in a while too, as its good to remind myself of a lot of the advice that you give.
More from Twitter on How To Be A Freelance Creative
@jonnyelwyn your ebook is freaking awesome. Just getting started and its already helped me relax — Jason Bowdach (@JBowdacious) October 1, 2014
@jonnyelwyn awesome Jonny! I will be buying later today! — Marc R Leonard (@brewingdigital) January 23, 2014
Check out @jonnyelwyn's great ebook on being a #Creative #Freelancer Worth a read if you're a freelancer! http://t.co/77rkIJOAl3 — Reeve Media (@reevemedia) January 28, 2014
Just bought @jonnyelwyn's How To Be a Freelance Creative. Looking forward to giving it a read. — Mdhamiri Nkemi (@MNkemi) January 27, 2014

What Freelance Creatives Really Want To Know
In putting together How To Be A Freelance Creative I conducted an online survey to find out what it is that freelance creatives really want to know: what we worry about, what we need the most help with, and in what ways we want to succeed.
I've answered those hopes and fears in How To Be A Freelance Creative and made sure that every topic the survey revealed – all the things that matter most to creative freelancers – were fully addressed. This really helped to keep the book grounded in reality and ensure it matches up to the real world.
I wanted to share those survey results with everyone and so I've put together this short infographic for anyone who might be interested. If you find yourself agreeing with the findings then hopefully it's encouraging to know you're not alone! Read How To Be A Freelance Creative to find the answers you're looking for.

Frequently Asked Questions – How To Be A Freelance Creative
If you are about to buy the book but just have a few final questions before you do, these answers should give you the information you need.
1. Will buying your book make me more money? If you buy, read and apply the ideas inside How To Be A Freelance Creative, you will almost certainly be better off. Not only is the purchase price of the book likely to be a tax deductible business expense in the first place, but you'll learn how to increase your daily rates, get more work, save more money and generally have a better time as a freelancer.
2. What format is the book in? How To Be A Freelance Creative is available as a digital download in the PDF format. It is formatted to look best on an iPad, but it is just as readable on an iPhone, laptop or Kindle. Click here to learn how to easily move pdf content onto your Kindle.
3. How do I download the my purchase of How To Be A Freelance Creative? When you hit the 'BUY EBOOK' button below and you will be taken through to PayPal's super simple payment gateway where you can pay securely either by credit card or with your PayPal account. Once your payment is complete you'll be directed to download your files from FetchApp's secure servers. It really is that easy.
2015 UPDATE – So far nearly 100 people have purchased and enjoyed How To Be A Freelance Creative, without a hitch. Now the UK Government has added a little hitch into the process of selling digital downloads, called VATMOSS, which has meant that I've had to alter the process just a little to comply with these new regulations.
What will now happen is that when I receive a near instantaneous email confirmation of your PayPal payment, I will then personally email your purchase of How To Be A Freelance Creative, and all bonus material, within 24 hours.  I hope this slight delay in receiving your purchase will only serve to heighten your anticipation! It will also provide you a direct line of communication to me, should you have any further questions.
4. What comes with the book? When you buy How To Be A Freelance Creative you download a small zip file containing four files. 1. How To Be A Freelance Creative – The 100 page ebook in PDF format. 2. A bonus chapter on creating your own Terms and Conditions document, in PDF format. 3. The Terms and Conditions I use with my clients to illustrate the bonus chapter in PDF format. 4. The Terms and Conditions I use with my clients as an editable Word document.
5. Is How To Be A Freelance Creative available in as a hard copy? There are no plans at the moment to create a hard copy of the book but if you would like one, please drop me an email and if enough people request it, I'll make it happen.
6. What if I have further questions? Please hit the comments section below with your feedback, comments and suggestions or send me an email and I'll get back to you as soon as I can.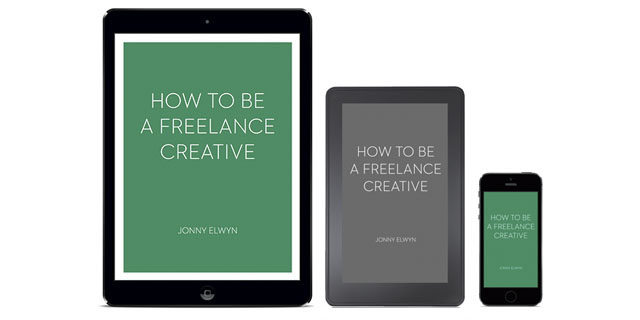 Buy How To Be A Freelance Creative Now If you want to get your freelance creative career off to the best possible start with tried and tested methods that will help you grow that career over the long haul, buy How To Be A Freelance Creative today. By putting the simple principles in this book into practice you could be earning more on your next job, building a better relationship with even your most difficult clients and handling your finances such that they smooth out the bumps in the freelance road for you. What are you waiting for?

100% Money Back Guarantee! – Because I want you to be entirely satisfied with your purchase I'm happy to refund you 100% of the price of the book – and I'll even eat the credit-card/PayPal fees for you – if you find that applying the ideas I share in the book have made no positive impact on your life. Just drop me an email with your thoughts and I'll refund you instantly.   Paying is easy by either credit-card or Paypal, and takes just a few clicks.
Download a free sample of How To Be A Freelance Creative
Still not convinced you need to buy this book?
For a taster of  How To Be A Freelance Creative download the free sample.  You'll not only get a detailed look at the full contents of the book but also the complete introduction and entire second chapter: Briefing Well.
Creating good client briefs is crucial to getting your project off on the right foot. All the nasty surprises that will later come back to haunt you, can be avoided with a little bit of finesse at this early stage. By learning to brief well, you can avoid common problems, shape your project for success and delight your clients every time.

What's more, even if you never buy the book the section on The 5 Things I Wish I'd Known When I Started will give you some quick ideas to help you get more out of your freelance creative career today.
If you're trying to decide if you should go freelance right now then the free sample also includes some focus bringing thoughts on the pros and cons of being freelance and how to maximise the pros and minimise the cons.   Through reading How To Be A Freelance Creative you'll also get a realistic picture of what it means to handle the ups and downs of being your own boss and running your own creative career.